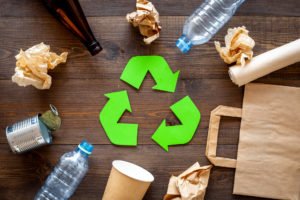 Most businesses and individuals collect and store large number of paper documents and sooner or later most of these will need to be disposed of. The easy option is to tip paper documents into your council recycling bin. Unfortunately it turns out those yellow-lid bins are not necessarily all that 'green', and to make matters worse represent a real security risk for you and your business.
From an environmental viewpoint, there's no guarantee that material you place in a council recycling bin will ever end up being genuinely recycled. Recent news reports have highlighted serious problems with recycling programs in Australia, with overseas processors increasingly unwilling to accept material, as well as contamination by non-recyclable materials. Because of these factors, recyclable paper often ends up going into landfill where it releases greenhouse gases as it decomposes — hardly the 'green' solution most of us are looking for.
The other serious problem with standard recycling services is lack of security. Sensitive documents disposed of in a council recycling bin are not handled securely and could therefore easily fall into the wrong hands.
Fortunately, there's an easy way to ensure your sensitive documents are disposed of in a secure AND environmentally responsible way; by using a professional document-destruction company like National Document Shredding Service.
Our staff and approved sites are all security checked, so at every stage of the document-destruction process, you can rest assured your sensitive data is in good hands. Documents are comprehensively cross-shredded into tiny fragments, which are then transferred to a recycling facility where they are processed into recycled paper products, safeguarding your security and the environment.
Phone us today on 1800 757 000 to book a service or learn more about how secure, environmentally friendly and cost-effective document-destruction can be.