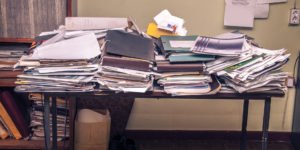 Documents cluttering your workspace look unprofessional, interfere with workflow and can erode profitability. They also present a security risk, creating hazards such as identity theft and corporate espionage.
Here are some tips to help you maintain a cleaner, safer and more efficient workspace — and ensure documents you discard don't fall into the wrong hands.
Look at everything
Assess each document. Should it be kept or destroyed? For example, the ATO requires you to keep supporting documents for five years from the date a tax return is lodged. After that, they are probably no longer needed and can be destroyed.
Digitise
Where possible scan documents and store them digitally. Cloud services like Google Drive provide instant and reliable access to documents anywhere you have an internet connection.
Organise
A logical filing system lets you store and retrieve documents quickly. For tips on creating an easy-to-use filing system, check out this site:
http://www.step-by-step-declutter.com/declutter-your-files.html
Make it a date
At the end of each day tidy your workspace. At regular intervals, say monthly, go through storage areas eliminating clutter and filing important documents.
Securely destroy unwanted documents
Ensure total destruction of unwanted documents by using a professional and experienced document-shredding service.
National Document Shredding Service offers a range of options to fit your needs. Our Security Bins and Secura Bags are delivered to and picked up from your premises by secure transport, on a one-off basis or as part of a scheduled service. Documents are taken to a secure facility where they are comprehensively cross-shredded into tiny fragments, then transferred to a recycling facility for final, total destruction. At the end you receive a Certificate of Destruction, your guarantee that all data has been completely destroyed.
Phone us today on 1800 757 000 to find out how easy and cost-effective secure document destruction can be.