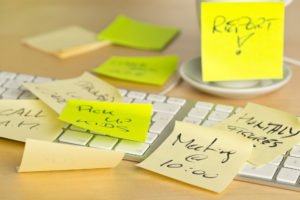 Despite our best intentions, the office desk easily becomes a graveyard for old coffee cups, a myriad of post-it notes, scattered files, redundant stationery and remnants of the sneaky office snack. A clean office desk can not only improve motivation and productivity it is also a lot more hygienic and keeps your business information secure.
Research shows what we all intuitively know. Productivity can improve by more than 50% when working in neat and orderly environment1. Secondly, two-thirds of 'desk jockeys' put themselves at risk of illness by not cleaning their workspace properly2. Lastly, 75% of us store or throw away waste paper insecurely which could be used for fraud3. Even if we know this, it is still difficult to maintain desk discipline during a busy work week.
A simple 4-step routine to a cleaner desk includes:
Remove rubbish daily – this includes rubbish on your desk and in a waste basket.
Declutter the desktop – permanently remove anything from the desktop that is used less than once a day.
Empty drawers – Throw out non-functioning stationary and recycle reusable items to the office stationery cupboard. Keep paperwork to an absolute minimum. File, scan or shred the rest.
Clean the desk properly – give the desk, office phone, mouse, keyboard, PC and office chair a good clean using an anti-bacterial spray or disinfectant wipes.
Paperwork, even in so-called 'paperless' offices is likely to be your biggest challenge when it comes to keeping a clean and orderly workspace. Ensure you understand and make use of the company filing system and that any waste paper, however trivial, is disposed of safely and securely.
National Document Shredding Service can help you eliminate these risks by ensuring all private data contained in paper documents is completely erased. With lockable security bins, archive boxes and secura bags, we can tailor a document destruction solution to meet your needs. Our staff and facilities are all security checked, and at the end of the process you receive a Certificate of Destruction guaranteeing all information has been totally destroyed.
Find out how easy and cost-effective secure document disposal can be by phoning us today on 1800 757 000.
Sources:
Newspoll Survey 2010